(10 December 2018 – Hong Kong) Vinda International Holdings Limited (stock code: 3331), and China Aoyuan Property Group Limited (stock code: 3883), today signed a strategic partnership agreement in Hong Kong. Mr. Li Chao Wang, Chairman of Vinda, Mr. Johann Christoph Michalski, CEO of Vinda, Mr. Guo Zi Wen, Chairman of Aoyuan, Mr. Guo Shi Guo, Vice President of Aoyuan, and senior management attended and witnessed the important milestone for strategic partnership of both companies. Vinda and Aoyuan will jointly explore healthy lifestyle and management service for both urban residents and aging communities and development of e-commerce in order to provide healthy lives for urban residents.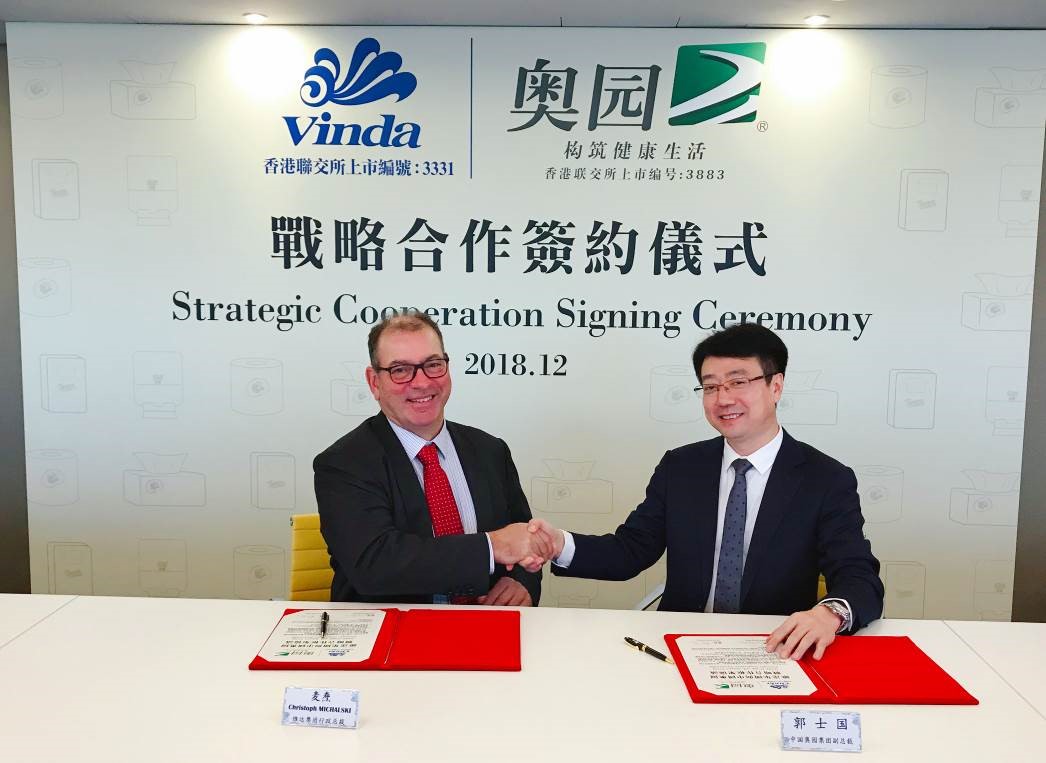 Photo: Mr. Johann Christoph Michalski, CEO of Vinda (left) and Mr. Guo Shi Guo, Vice President of Aoyuan (right)
Driven by the consumption upgrade, consumers who are in pursuit of quality products and service have expanded rapidly. As a leading consumer-oriented enterprise providing hygiene products and services in Asia, Vinda is always committed to the philosophy of "healthy lifestyle starts with Vinda", and has striven to create full channel service model of "consumption + experience". Aoyuan, which was listed as "TOP 500 in China" by Fortune in 2018, is the creator of Chinese comprehensive real estate development. It upholds the brand concept of "building a healthy lifestyle" to promote the upgrading of comprehensive real estate development with healthy urban lifestyles. The common values and corporate visions of Vinda and Aoyuan have motivated the establishment of this strategic partnership.
According to the cooperation, both Vinda and Aoyuan have made considerable progress in implementing the "healthy lifestyle" for urban residents. Vinda, together with its household tissue brands such as Vinda, Tempo, and Tork, will be a designated supplier of Aoyuan and its subsidiaries, namely Property Group, Commercial Property Group, Cultural Tourism, Aomygod Group, Finance Control Group, Healthy Life, and International Investment Group. Vinda's incontinence care products, such as Dr.P and TENA will be a designated supplier for Aoyuan's community nursing services. In addition, Vinda will join hands with Aomygod Group, an e-commerce platform with over 10 million members to provide comprehensive online supply chain services for property owners and customers in order to establish in-depth cooperation.
This strong partnership enables both Vinda and Aoyuan to explore the essence of quality products and service, offering desired and healthy living solutions for Chinese residents. Vinda's high-quality products will be integrated into Aoyuan's 200 benchmark projects of shopping malls and real estates across more than 80 cities in China and abroad. It can provide a professional and all-rounded quality hygiene solution for residents to achieve sustainable healthy development and service, making a win-win partnership for both Vinda and Aoyuan.
Li Chao Wang, Chairman of Vinda, said at the signing ceremony, "The strategic cooperation between Vinda and Aoyuan will help promote the exploration and innovation in various aspects for both parties. As a renowned enterprise for its quality hygiene products, Vinda is committed to the philosophy of "healthy lifestyle starts with Vinda" and invests in innovative and multi-category development to vitalize and provide consumers with premium hygiene products and services."
"This comprehensive and multi-level strategic cooperation is believed to have far-reaching impact on the development of both parties." said Mr. Guo Zi Wen, Chairman of Aoyuan. "Aoyuan enjoys advantages of brand distinctiveness, excellence in business operation and industrial chain, and outstanding capabilities for development and management. This strategic partnership can bring mutual benefits and 'win-win' for both developments."
Vinda's win-win strategic partnership with Aoyuan will utilize the resources from both parties and deliver the highest values, while it will provide potential business development and positive prospects in future cooperation. Looking forward, Vinda and Aoyuan will encourage in-depth and comprehensive collaboration to give full play to their respective advantages, so as to offer professional services and achieve higher efficiency brought by mutual reinforcement and resource sharing. The cooperation will ultimately deliver enjoyable experiences and build promising and healthy lives for residents in the cities.
– End –