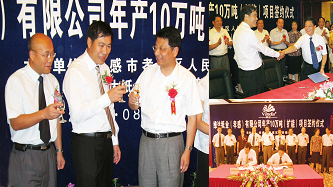 Vinda signed an agreement with Xiaogan government to enhance 100,000 tons of production capacity on Aug 17th,2006. Secretary of Xiaogan Municipal Committee Huang Guanchun, Mayor Liang Huiling, Chairman and President of Vinda Grouop Li Chao Wang, Vice president and executive director Dong Yiping, President of Government Affairs in China Liang Shaohuan attended the signing ceremony.
The ceremony was hosted by Secretary of Xiaonan District Committee Nie Lijun, on which Chairman Li and District Head Liu Younian both made a speech.
Since its establishment in 1997, Xiaogan Company has carried out 3 capacity enhancement projects with a total investment of 279 million RMB in 10 years. By mid Sep, 2006, the company has an overall capacity of 50,000 tons, becoming a pillar for the district. After the agreement signing, Vinda is going to acquire another 200 mu of land for the additional 100,000 tons of capacity.