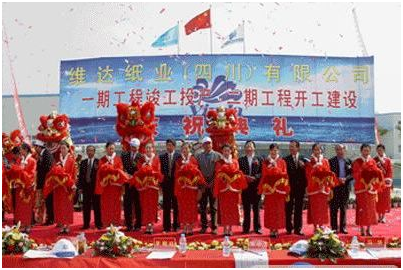 Vinda Paper (Sichuan) Company held a ceremony to celebrate successful completion of its Phase 1 project and announce official beginning of Phase 2 project on Oct 24th.
Covering an area of 158 mu, Sichuan Company located in the economic and technological development zone of Deyang, with initial investment of 100 million RMB and an annual capacity of 10,000 tons. Sichuan Company created 450 jobs for the region. Upon the completion of the project, the Sichuan Company is expected to gain a capacity of 60,000 tons, with a total investment of 600 million RMB, creating 1200 job opportunities for the region.
Chairman of Vinda Group Li Chao Wang said in the ceremony that Vinda aspired to become a global company, achieving capacity of 180,000 tons next year and 300,000 tons in 2010.