The concept of premium tissue consumption is now gaining more popularity among consumers. Founded in 1929, Tempo, the German high-end tissue brand, provides young consumers with high-end and signature experience and expands the landscape of tissue consumption with exceptional taste and tissue revolution.
Wonderland - Art and Aesthetics Walk into Life via the Bridge of Tissue
On February 21, Tempo teamed up with Tmall Platform to hold the first Tmall Super Brand Day in Household tissue industry, presenting a tissue art feast - Tempo Wonderland, with the theme of "Wonderland, Exceptional Tissue Taste". In this first ever Super Brand Day for the tissue category, Tempo is acting as the engine to lead the upgrading of tissue industry, conveying art concepts through tissue, and raising the curtain of premium living art for the new year. The co-branded series launched by Tempo and V&A Museum connects art aesthetics with life quality through tissue, and builds an exceptional taste and image for Tempo.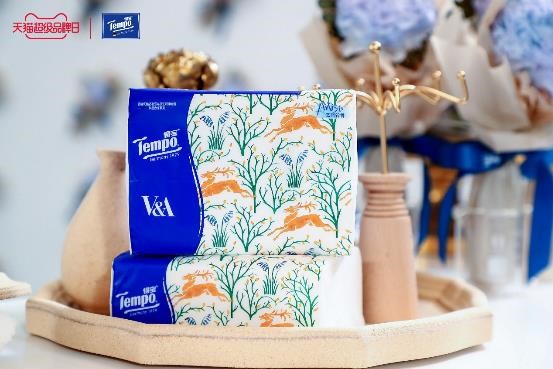 Tempo releases the brand-new V&A Artists series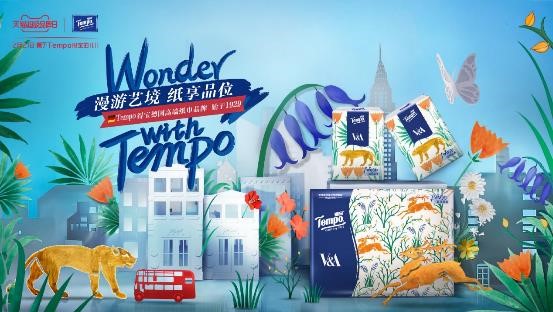 Tempo stages a tissue art feast on February 21
At the Tempo Wonderland immersive tissue art exhibition themed "Wonderland, Exceptional Tissue Taste" staged in Shanghai on February 21, Tempo employs recyclable paper to create large aesthetic paper flowers and animal paper sculptures, and amplifies the perfect blend of art and Tempo's superior quality with the customized fragrance stand.
Tempo also vigorously launches activities on social media and targets followers by inviting the Weibo official account of Tmall Super Brand Day and V&A Museum to engage with consumers, and encouraging consumers to explore the brand-new Artists series and the exclusive gift box.
In addition to the crossover art, Tempo also release the spectacle commercial "Art Invasion". The dreamland and the reality become interwoven as the character draws out a piece of Tempo tissue, bring people out of the cold concrete jungle to the ravishing Tempo Wonderland, immersing people in fairylands to explore the unknown artistic facets of the city.
Satisfy Different Demand Scenarios by Constant Product Upgrade, to make tissue Goes Beyond Life
Tempo Artists series, which started from Tempo's first co-branded art tissue product in 2019, arouses a round of art wave and received extraordinary popularity once it was launched. The Tempo Artists Series 2.0 launched in 2020 allied with V&A Museum to fully reveal the beauty of classic sophistication.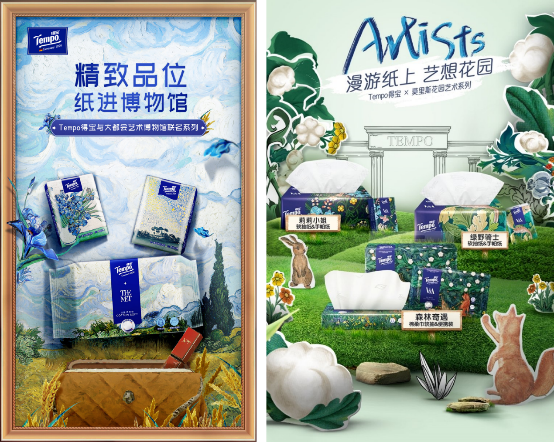 Tempo has launched several Artists series in succession since 2019
This year, Tempo teams up with V&A Museum to release the brand-new Artists series on Tmall Super Brand Day. A pack of Tempo becomes the entrance of the ideal Wonderland with art connecting the reality and fantasy. Inspired by Charles Voysey's representative paintings, "Rest in the Forest" handkerchief and "Morning in the Wilderness" soft pack applied animal patterns and multi-layered green on the package, accompanied with the refreshing bluebell fragrance and the elaborate patterns on every piece of tissue, bringing artistic lifestyle to consumers in pursuit of aesthetics.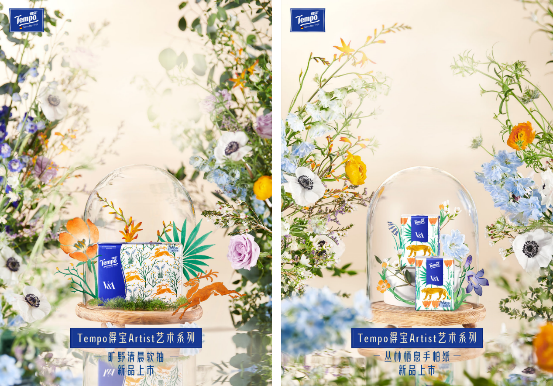 Tempo releases the brand-new V&A Artists series in 2021
Drive Brand Upgrade by Blending Premium Art Experience and Superior Product Quality
Tempo strives for a deeper understanding of the consumer base, consumer habits and demands in China's high-end tissue markets, and is constantly working to satisfy the demands of different groups with various product segments, namely, handkerchief, soft pack, box tissue, cotton soft towel, wet wipes, and roll paper. With all of these, Tempo is leading China's tissue market standard to a higher level and ushers in a new era of high-end tissue consumption.
As a pioneer brand in integrating art with life, Tempo delivers people's pursuit of life quality and exquisite art perception on tissues, and stays together with every consumer to foster the exceptional taste and enjoy the beauty of life.