Riding on the success of "Pleasant Goat" series, Vinda infuses
elements of popular animated characters into its products again
(25 April 2011 – Hong Kong) Vinda International Holdings Limited ("Vinda International" or the "Company", together with its subsidiaries collectively known as the "Group"; stock code: 3331), a leading manufacturer and branded seller of household paper products in the PRC, is pleased to announce that the Group have collaborated with renowned animation studio, DreamWorks Animation SKG ("DreamWorks Animation") from Hollywood, to launch a series of "Kung Fu Panda" themed products. The Group and DreamWorks Animation hosted a press conference in Shanghai on April 23rd, in celebration of its product launch, further advocating household paper products to the youthful consumer sector.
The Group obtained the copyright license to the popular Chinese cartoon "Pleasant Goat and Big Big Wolf" at the end of 2009 and introduced a series of products packaged with the "Pleasant Goat" theme. Since consumers recognized the simple nature and leisurely attitude of Pleasant Goat's lifestyle, the product was adored by the masses. Sales of this series have been growing persistently, and it has become one of the growth engines for the Group. Panda is China's national treasure, and Kung Fu Panda is a Hollywood star. Combined with its past success, Vinda International believes that launching the "Kung Fu Panda" series and implementing various marketing and promotion activities in alliance with DreamWorks Animation will infuse some internationalism into the Vinda brand while further enhancing the Group's product mix and stimulate sales growth.
Commenting on this collaboration, Vinda International's Chief Executive Officer, Ms. Zhang Dong Fang said, "Vinda International is very excited for the opportunity to forge a partnership with the prestigious Hollywood animated film company, DreamWorks Animation, and to leverage on the widely popular "Kung Fu Panda" as to increase Vinda's global appeal. The animated film's worldwide recognition helps Vinda establish a more international and engaging brand image. The "Kung Fu Panda" series not only targets children, but also target adults with high purchasing power and youths with a passion for animated movies. Riding on the success of the first Kung Fu Panda movie, we believe that the sequel will also be a crowd-pleaser. Combined with the fame of China's national treasure – the panda, we are fully confident that "Vinda's Kung Fu Panda" will follow the footsteps of the "Pleasant Goat" series to successfully become an iconic product line, and drive our sales to new heights.
On the other hand, DreamWorks Animation's representative commented, "Household paper products are necessities to the people's everyday lives. We are honoured by this chance to join hands with Vinda International, such a renowned branded enterprise of household paper in China, to promote "Kung Fu Panda 2". Vinda International's products and brands have always been well-received by the general public. We believe that by leveraging its vast distribution network, Vinda's launch of the unique "Kung Fu Panda" series will not only propel sales growth for the company, but effectively help us extend its reach to further promote "Kung Fu Panda 2", which is set for a worldwide release on the 26th of May."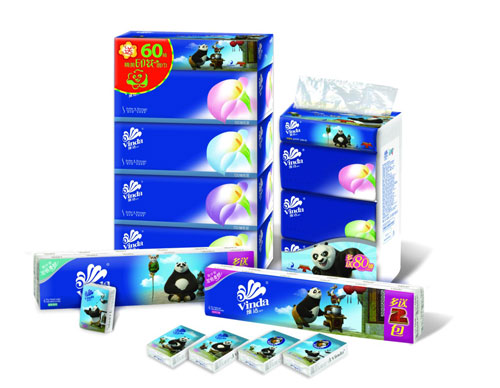 The blue series of Kung Fu Panda products are limited editions, definitely a collector's item.

The non-limited edition, yellow series, has even more variety,
including handkerchief tissues, box tissues, and softpacks.