"Creative, low-carbon economy, sustainability, technology" are the key words for this year's Shanghai World Expo, all of which has reflected future trend. On Aug 19th, Vinda together with its distributors and customers held a exhibition in the Expo park.
Vinda's senior management, including CEO Donna Zhang, Vice President of China Marketing He Huixian,Vice President of Marketing and Media Center Tang Haitang, attended the exhibition. Donna Zhang said Vinda would stick to its core value of "professionalism, integrity, sustainability and innovation" to bring premium hygiene products for consumers. Tang Haitang, Vice President of Marketing and Media Center, told us Vinda would grow faster in the next 5 years.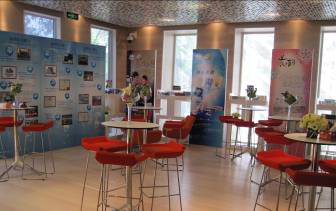 Vinda exhibited a series of fashionable and environmental products for 2010. The Group's spokesperson said Vinda had designed trendy packages for the new Feel series, including Pady Feel, Bobo Feel and Chic Feel packages.
A paper runway show was also put on in the exhibition.