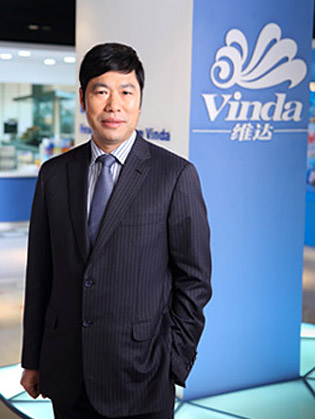 We embarked on our new Five-Year journey in 2016. Our ambition is clear and distinctive, that is to become a leading hygiene company in Asia by securing the forefront position in the tissue market and speeding up the expansion of our personal care business. Faced with unprecedented uncertainty in the macro economy and keen market competition last year, Vinda continued to gain recognition and support from consumers on the back of our commitment in quality and focus on innovation as we steered our business forward. We also achieved a notable milestone in going international with the acquisition of Svenska Cellulosa Aktiebolaget (SCA)'s business operations in Southeast Asia, Taiwan and South Korea. Opened to new opportunity with foothold extended to the Asian markets, we now aspire to expand the population coverage of our markets from 1.4 billion to 2.0 billion in the three decades to come.

Looking at China's FMCG market, fierce competition remains among domestic and international brands. Booming online shopping also brings about fundamental changes to the conventional marketing model. Given the imbalance in supply and demand in the tissue market, Vinda has refrained from banking on price cuts. Instead, we have strived unswervingly to meet consumption upgrade needs through better quality and branding, innovative and precise marketing strategies based on these measures have kept us a strong organic growth as we rose to more challenges. In spite of our leading position in the tissue market, we are an infant facing the enormous personal care market. To capture new opportunities in the incontinence care market boosted by the aging population in China, we believe it is vital to unleash the market potential while banking on the supportive policies put forward by local governments. Therefore, Vinda joined hands with the Jiangmen municipal government to map out a sustainable elderly care model during the year, which is expected to be adopted in other provinces in the future. In the flourishing feminine and baby care markets, consumers are eager to try new quality brands as their primary concern shifts from price to value. We are well aware that building a position in the personal care market cannot be done overnight. Yet, we are fortunate enough to have a wide range of prestigious global brands in incontinence, feminine and baby care products. We will prioritise our efforts and penetrate into the Chinese market in phases to attract consumers with products of high quality and value.

Looking ahead, we see the year 2017 as a year of uncertainty in the broader environment, featured by changes in the global political landscape, a strengthening US dollar and significant swings in the environment. As the Chinese economy has entered a "New Normal", there is no dispute that the emphasis of consumption growth is placed on quality. The hygiene industry in China holds a bright future in the longer run. Increasing household disposable income resulted from urbanisation and consumers' quest for quality hygiene products form an ideal backdrop for hygiene business. Our new business in Asia is mature and promising. The continuous professionalism our Asian team demonstrated has enabled the business to further flourish. Following the integration, we are encouraged by the closer communication and sharing between the China team and the Asian team. The interchange of ideas provides new impetus for the rapid development of Vinda as a whole.

Larger business scale comes with greater social responsibility. As a hygiene company with four business categories and ten famous brands in Asia, Vinda will continue to underscore our commitment to environmental protection, corporate governance and social contribution while pursuing profit growth. During the year, Vinda made every effort to maintain a green supply chain and low-carbon production, and updated the "Code of Conduct" for our staff. As Chairman of the Group, I am especially proud that Vinda has claimed the honour of "Directors of The Year Award" from the Hong Kong Institute of Directors. This is an endorsement to our commitment to high standard of corporate governance.

The year 2017 marks the 10th anniversary of our listing on The Stock Exchange of Hong Kong Limited, and embarks our transformation into an international and multi-category hygiene company. We, as always, will work in concert relentlessly to ensure Vinda grow and bring sustainable returns as we move forward.