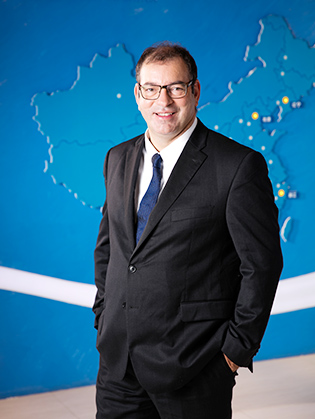 2016 has been another remarkable year for Vinda. We continued to demonstrate our strength and ability to grow amid competitive landscape and economic headwinds. With the successful acquisition of SCA Asia business in April, we took a bold step to reshape the business portfolio from single tissue category to multi-categories. For the first time personal care business in our history, accounted for a significant percentage of our total annual sales, 17%. This progress has given us much confidence that we are on the right track to becoming a leading hygiene company in Asia.
Despite the challenging market conditions, I am pleased that our performance in 2016 broadly met our targets, with every region and category contributing. We achieved 13.7% organic growth in revenue and expanded the gross profit margin through active portfolio optimisation. We reduced the foreign exchange loss substantially in a weakening Renminbi trend, and improved the working capital management that led to a strengthening operating cash flow. We put the new production capacity into operation as planned. It is worth mentioning that we kept up the momentum for high growth in our e-commerce sales. E-commerce gained ground as a critical marketing channel for engaging young families, reinforcing our first-mover advantage and leading position in online sales.
We have completed the integration process of the acquired business of SCA in China and Hong Kong during the year. We have also achieved all major milestones set by the Company for 2015. For instance, we hit an aggressive sales growth target and optimized the tissue product mix. We also completed the installation of machineries with designated production capacity. Furthermore we successfully launched a number of new products with satisfactory market response.
Our brands' market shares in China also increased across the board. Vinda and Tempo, in particular, yielded significant results with our innovations, more marketing initiatives and sales channel strategy. Our incontinence care made satisfactory progress in opening up the retail trade and cementing the relationships with local government. We also step up the sales at feminine care with the excellent execution of the VIA branding strategy. Meanwhile, our baby care has also improved its profitability after having shifted its focus from open-diapers to pants.
Our integration of SCA Asia business has been completed since April. In the last three quarters, the Asia team remained dedicated to delivering the business plan and upgraded the products of feminine care and baby care. The continuous exchange of knowledge between the teams in China and Asia will benefit the Group's development.
Looking ahead to 2017, we anticipate continuous challenges: moderate growth in market demand; intensifying competition; uncertainty of currency exchange rates and slowdown in offline trade. To respond to these challenges, we will increasingly sharpen our strategies on building brands, and extending our routes to markets to build a stronger sales base. Top priority remains to develop our people at all levels to secure a strong talent pool. We will also improve our cost efficiency in the supply chain to ensure our sustainable competitiveness. We have set clear objectives of enhancing financial metrics: to drive top-line growth as the main driver of long-term value creation; to broaden the gross margin through better portfolio management; to maintain operating margin and to improve the return on capital employed. Our market priorities have not changed:
1. To drive Tissue business in China
2. To broaden the presence of Personal Care business in China
3. To drive the growth of Personal Care business in Asia and roll out Tissue business to the region
4. To build up B2B business
While remaining cautious about the short-term macro-economic outlook, ¬I am confident that, with continued focus, passion and team spirit, Vinda can meet the challenges in the year ahead.